This shop has been compensated by Collective Bias, Inc. and it's advertiser. All opinions are mine alone. #WatchHowIStyle #CollectiveBias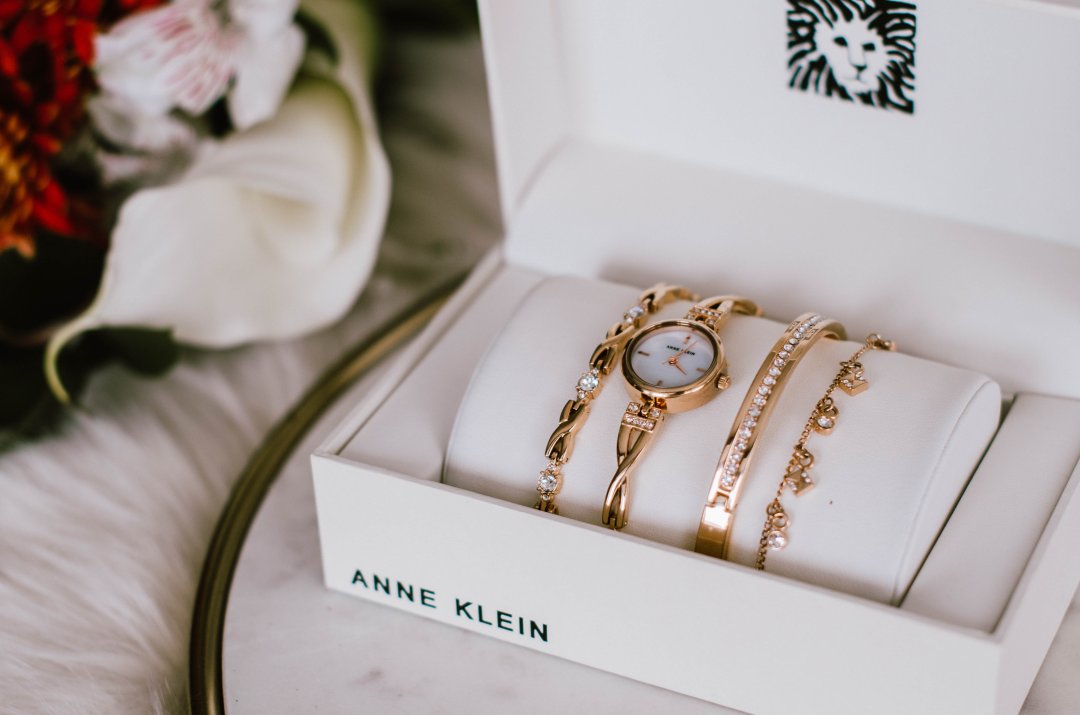 The holidays are fast approaching and it's going to be here sooner than you know it. So it's always good to plan things ahead of time whether its for a family holiday portrait, for parties or for family gatherings. This is my favorite time of the year because aside from the food and gatherings, i love to dress up for holiday occasions. So today i'm going to show you how i style an outfit for a holiday party using the Anne Klein 4 piece Rose gold tone watch and bracelet set that i got from Macy's. It includes 1 bracelet watch with mother of pearl dial and 3 bracelet/bangles all featuring unique designs and Swarovski crystals.  Perfect option for holiday gift all pieces come in 1 beautifully branded package/box. Bracelets can be mixed and matched. Hover the image above to start shopping for your holiday watch look!
How to Style an Outfit for a Holiday Party 
1.Think about your color scheme – When it comes to holiday gatherings/parties, i always wanted to look festive and fun. After all, this is the season to be fun, joyful, merry and bright ! Really, what's inside you reflects on the outside and you want to display a fun and positive persona. So i highly suggest festive colors and prints like rustic orange, olive green, mustard yellow, maroon and floral prints for Thanksgiving dinner. For Christmas parties i suggest red, white, green, blue, silver and gold if you want to go metallic and be sparkly. You can also wear red for Thanksgiving dinner just like what I'm wearing here but i paired it with a grey sweater so it doesn't look too Christmasy.
2. Accessorize, accessorize! – A lot of times i base my outfit on my accessories, just like this Anne Klein watch. My outfit here revolve around this watch. I love the combination and contrast of red and rose gold. I also love that Anne Klein watches function as practical timepieces or pieces of jewelry perfect for staying on schedule while on trend. It's so chic, feminine and elegant. Honestly, an outfit won't be complete without accessories. So it's always important to accessorize and make them as part of the outfit aside from just it's functionality.
3. Be comfy, yet elegant and presentable – Now this is a very touchy subject because each one of us have different styles and also different levels of comfort when it comes to dressing up. What may be comfortable for you may not be for others or vice versa, so it's really up to you. We all have that "uniform" outfit, the grab and go. Let's take it up a notch a little bit by pairing our outfits with bold accessories , fun shoes, dress or top. Whatever you like, whatever you feel as long as your feeling your best self, that is the most important.
4. Know the venue and the dress code – Knowing the venue and the dress code of where the holiday party is going to take place is the most important thing so we know what to wear on the said event. If it's a black tie party, ofcourse we are going to wear formal gowns and cocktail dresses. If it's a business casual or family gathering, we wear semi-formal dresses. The Anne Klein 4 piece Rose gold tone watch and bracelet set that i'm wearing here can be both dressed up or dressed down too. The watch and bracelet combo makes a beautiful arm candy and an easy and affordable way to accessories any wardrobe. Box sets for anyone who wants to take part in the current jewelry stacking trend but is unsure how to pair pieces or simply doesn't have the time to think about it.
Anne Klein watches are available and located at the jewelry aisle at Macy's.
Those are my simple and easy ways on how to style an outfit for a holiday party. As the saying goes " You can never be too educated or too over dress " . So it's always important to present your best all the time. It boost our confidence and it makes us feel good about ourselves.
Thank you so much for reading and have a fabulous holiday look!